Welcome to Syd-TV.com

This website is a companion site to my book Language and Television Series: A Linguistic Approach to TV Dialogue (Cambridge University Press, 2018) as well as to the Sydney Corpus of Television Dialogue (SydTV), a corpus of approximately 275,000 words of dialogue from 66 US TV series.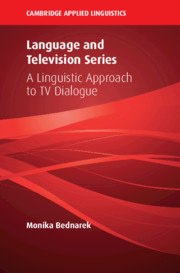 Television dialogue – the language of fictional television series – is encountered by millions of viewers world-wide, on their TVs, their computers, their tablets, or their phones. TV series from the US are particularly popular and exported into many different countries, including those where English is spoken as a foreign language. At the same time, new technologies such as streaming enable such viewers to forego dubbed versions in favour of versions in the original (English). From an applied linguistic perspective it is crucial to analyse the types of spoken language such learners of English encounter. However, the analysis of TV dialogue is also important for other linguistic sub-disciplines, such as sociolinguistics, pragmatics, stylistics, corpus linguistics, and others. Indeed, the linguistic analysis of film and TV dialogue is currently a vibrant field of research, as evidenced by this bibliography. SydTV can be used for such linguistic research, for example as a reference corpus for studies that focus on particular series. Information about the corpus design and contents is available in the corpus manual. My new book Language and Television Series presents research on SydTV, in addition to complementary studies involving scriptwriters and viewers. A flyer (with discount code for book orders) can be downloaded here.
Access to SydTV (for researchers)
I am currently working on an interface that would allow other researchers to access SydTV without violating copyright. A link to the interface will be posted here once this has been accomplished. You can also find frequency lists and other resources on this site. Note that I cannot share the corpus files themselves. I have noted some ideas for projects here.
Contents of the book
Book blurb
This book offers a comprehensive linguistic analysis of contemporary US television series. Adopting an interdisciplinary and multimethodological approach, Monika Bednarek brings together linguistic analysis of the Sydney Corpus of Television Dialogue with analysis of scriptwriting manuals, interviews with Hollywood scriptwriters, and a survey undertaken with university students about their consumption of TV series. In so doing, she presents five new and original empirical studies. The focus on language use in a professional context (the television industry), on scriptwriting pedagogy, and on learning and teaching provides an applied linguistic lens on TV series. This is complemented by perspectives taken from media linguistics, corpus linguistics and sociocultural linguistics / socio-linguistics. Throughout the book, multiple dialogue extracts are presented from a wide variety of well-known fictional television series, including The Big Bang Theory, Grey's Anatomy, Bones, and many more. Researchers in applied linguistics, discourse analysis, critical discourse analysis, corpus linguistics, sociolinguistics and media linguistics will find the book both stimulating and unique in its approach.
Chapter-by-chapter description
In Ch 1 I provide an introduction to TV dialogue, including its participation framework and how it is produced (writers' room, showrunners), as well as the narratives and characters found in TV series.
Ch 2 reviews relevant linguistic research on dialogue in English-language television series and films/movies.
In Chs 3 & 4, I introduce a new functional approach to television series (extending Kozloff's work) and illustrate these functions with multiple examples from different series.
Ch 5 describes the Sydney Corpus of Television Dialogue (SydTV) and other corpora used for comparison and introduces the corpus linguistic methods applied in this book.
Ch 6 explains methods for identifying instances of non-codified language (including non-standard language, innovations). The chapter also describes methods used in the analysis of pedagogic material, interviews, and consumption.
Ch 7 applies different corpus linguistic methods to explore some of the salient linguistic characteristics of US TV dialogue and to investigate how it is similar/different from unscripted conversation.
Ch 8 focuses on exploring variation within the corpus, on the basis of keywords analysis, and includes a case study of the stigmatised form ain't.
Ch 9 examines non-codified language use in SydTV, including non-standard language and innovations (eg dialectal features, colloquialisms, slang, swear/taboo words).
Ch 10 examines what scriptwriting manuals and scriptwriters say about TV dialogue, based on a survey of 14 manuals and interviews with 5 Hollywood writers.
Ch 11 shows how advanced learners of English consume TV dialogue, incl. their linguistic awareness – based on a questionnaire with almost 600 students from 7 German universities.
Ch 12 concludes the book, presents the implications for education and media literacy, and reflects upon the book's multidisciplinarity (corpus linguistics + applied linguistics + media linguistics + sociocultural linguistics).
My other sites and social media